Alumni Meet 2015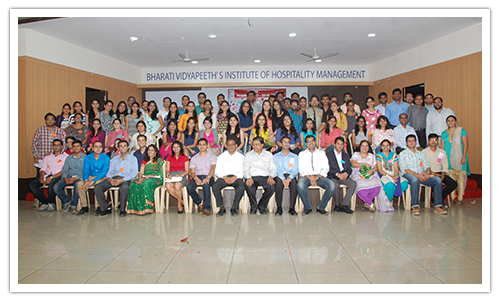 The annual alumni meet of 2015 was organised on Saturday, 3rd January 2015. The event was divided into 2 sessions.
The first session was a career counselling session for our current students organised by the alumni committee. Our alumni who are doing splendidly well in various walks of pharmacy interacted with and guided our students about different career avenues open to them on completion of their chosen programme. The alumni who counselled our students included:
1) Ms. Swati Kaushal – Senior Manager – International Marketing, Lupin Ltd
2) Mr. Aniket Naik – Research Scientist – Sai Life Sciences
3) Mr. Ankit Shah – Marketing Manager, Johnson & Johnson
4) Mr. Anand Pendse - Project Manager, Clinical Operations at Boehringer Ingelheim (India) Private Ltd
5) Mr. Rohan Putharan – Assistant Manager – Packaging - Hindustan Unilever Limited
6) Dr. Aruna Jadhav – Associate Professor, Bharati Vidyapeeth's College of Pharmacy, Navi Mumbai
7) Dr. Ishaque Shaikh – Manager – Formulation Development, Sandoz Pvt. Ltd.
8) Ms. Suneeta Sonawane - Assistant Manager, Regulatory Affairs and Technical Services, BASF
9) India Ltd
10) Mr. Sagar Sutar – Senior Executive – Regulatory Affairs, Lupin Ltd.
11) Mr. Vinayak Pande – Quality Assurance Officer –Watson Pharma Pvt. Ltd
12) Ms. Ekta Baraskar – Territory manager, Metropolis Healthcare Pvt. Ltd.
13) Ms. Ankita Sunilkumar – pursuing MS in Regulatory Affairs for Drugs, Biologics, and Medical Devices at College of Professional Studies, Northeastern University, Boston
14) Mr. Rohan Ghadi – pursuing M. S. in Pharmaceutics from NIPER, Hyderabad
15) Ms. Gayatri Parab – pursuing pharmaceutical MBA from NIPER, Mohali
The second part of the evening was dedicated to felicitating outstanding alumni. Ms. Jytosna Mehta an alumnus of the very first batch of BVCOP and who is currently Assistant Director at Sanofi, USA and Mr. Kapil Mudliar also from the 1997 batch currently working as the Marketing and Sales Head, Dupin Labs Ltd. were the proud recipients of this honour. The evening progressed on with cultural performances by our current students and alumni as well! It was truly a nostalgic and fun evening.